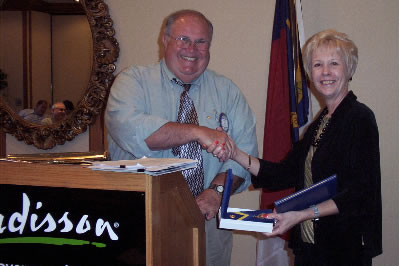 Rose was honored as Community Service Recipient for her volunteer work with Recovery, International Self-Help, Mental Health. For more than 20 years she has been a Group Leader and is a former Area Leader, Board Member, Committee Chairperson, and is a
Past President of the international organization.

The Paul Harris Fellow Award, named in honor of Rotary's Founder, is presented to honor extraordinary service to the community and support for the ideals of Rotary International.

As part of the award, a $1,000 contribution was made VanSickle's name to the Rotary International Annual Programs Fund which helps support the educational and humanitarian programs of the Rotary Foundation. Rose received a commemorative certificate, a Paul Harris Fellow pin, and medallion .

Rose has also served on the Board of the Community Mental Health Clinic in Raleigh, NC and was a member of the State of North Carolina Recovery Advisory Council.